,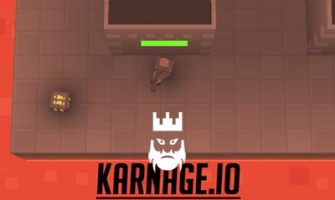 About Karnage.io
Karnage.io is a player versus player game where you are going to use weapons to kill each other.
If you like shooting games then you can play Karnage.io in your free times. In this game, you will control a character with a gun. The game has pixel graphics but as a result of this, it has a high performance. You need to think and act quickly in order to eliminate more players. You have unlimited ammo but you need to change magazine from time to time to keep shooting.
In the event that you want to explore new io games then you can check the io games list that we have shared on our website. In addition to this, you can download mods thanks to the io games unblocked servers we have shared. You can also visit the categories in order to find games starting with that letter.
How to Play?
You need to move your character with WASD keys. It is possible to shoot with the left click of your mouse. In addition to this, players can jump with the spacebar.
Tips and Tricks
This is one of the fast-paced io games that you can play. You are going to control a man in this game which has a gun. You need to shoot and kill your opponents in order to earn score. There are various bonuses on the map which you can collect.
In case you will fall down the lava you will lose the game and have to start from the beginning. It will be good for you to collect armors on the map. In this way, you will increase your durability and eliminate more players.
As godmods we provide Karnage.io mods on our page. In case you want to play the Karnage.io game with Karnage.io hacks then you can start playing on Karnage.io unblocked servers.
.

ALL Karnage.io MODS