.
About Jumbled.io
Jumbled.io is one of the io games which can be considered as a puzzle game. You will pick letters and drag them to the right spot in order to earn score.
If you play Jumbled.io, you can be sure that you will have plenty of a good time. You are going to compete with real players. Therefore, you need to act quickly in order to increase your score. Like most of the io games, your main goal is to earn as much as score you can. The letters will be located in a mixed manner on the board. You will have to find the right letters among the colorful letters.
There are various private servers of the game. You can play with hacks thanks to these servers. We have shared the list of the existing mods on the right section of this page. Feel free to download any of them to access Jumbled.io hacks.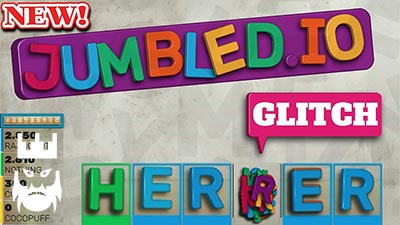 How to Play?
All you need to do is use your mouse in order to pick the letters. Then you need to drag the letter to the relevant area.
Tips and Tricks
Keep in mind that you will play with real opponents. You need to be quick in order to find the right letters from the board. Then you must drag it to the right spot in order to earn score.
In each round, you will be given a specific word in any language. You have to pick the right letters and place them in the right order one by one. In case you will place the letters one after each other, then you will earn bonus score.
As godmods we offer you the list of unblocked Jumbled.io servers. You can download Jumbled.io mods from this mod list and play the game with various Jumbled.io hacks.
.
.
LAST DOWNLOADS Jumbled.io MODS