,
About Infinitris.io
Infinitris.io is a strategy game where you will have to play Tetris with opponents. This is an online game in which you need an active internet connection to play.
When you play Infinitris.io, you will realize that it is the retro Tetris game. The only difference is, you can play with real opponents in real time. Each of the parties will have their own color and you will try to earn score by clearing the lines. Keep in mind that every player can only clear his or her own lines.
You can play this game on private servers where you can take the advantage of different hacks. However, you should note that these hacks will be available to your opponent as well. You can consider these hacks as new features located in the game. Like most of the other io games, the score is the most important detail in this game. You have to clear lines to earn score and prevent your opponent to clear lines to prevent them earning score.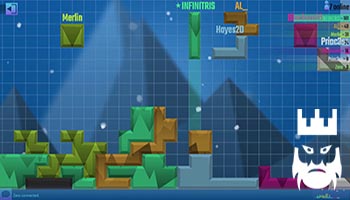 How to Play?
You will use your spacebar to fall down the figure quickly. You can use the arrow keys to provide the direction for the figures.
Tips and Tricks
You will be playing against a real opponent. Therefore, try to act clever and you need to confuse your opponent to make let him or her make mistakes. Do not use the spacebar unless you are sure about the position of the figure.
It will be good for you to leave your finger from the arrow keys before you use the spacebar. Otherwise, you may make a mistake and lose lots of scores.
As godmods we offer you the unblocked games list on our page. You can download Infinitris.io mods from this list and play the Infinitris.io game with many other Infinitris.io hacks.
.

LAST DOWNLOADS Infinitris.io MODS