,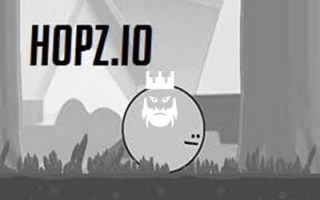 About Hopz.io
Hopz.io is a black and white game where you are going to compete with other opponents to eliminate each other.
In case you are looking for a relaxing game then you can play Hopz.io in your free times. This game has black and white graphics which will not tire your eyes at all. You are going to control a round character which can jump. You will be in the forest with other players and try to eliminate each other by jumping on your opponents. Good luck in eliminating your opponents!
You can find io games unblocked servers in our pages. Thus, you can download mods for different io games where you are going to find the list of the mods on the right section of each article. You can also benefit from our io games list in order to explore new io games to play.
How to Play?
The controls of this game are quite simple. All you have to do is use the arrow keys on your keyboard.
Tips and Tricks
You are going to control a character which is round. Players have only one goal which is eliminating each other. You need to jump on your opponents in order to eliminate them. It is also possible to jump twice by pressing the up key again.
The map has a limited space and it is not logical to stay close to the edges of the map. If you do so, you will trap yourself and have no place to run away from your opponents. It is quite fun game to play and we believe that you will like it as well.
As godmods we offer you Hopz.io mods on our website. In case you want to play the Hopz.io game with Hopz.io hacks then you can play it on Hopz.io unblocked servers.
.

LAST DOWNLOADS Hopz.io MODS