,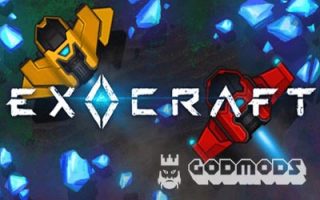 About Exocraft.io
Exocraft.io is a space strategy game where you are going to gather sources and buy equipment with your money.
In case you like to play detailed strategy games then you can play Exocraft.io in your free times. You are going to control a spaceship in this game. Your mission is to collect the minerals on the map. Once your storage will be full you have to go back to the market and sell the minerals you have collected. Players will be earning money in this way and you have to spend the money you earn on your spaceship. Players are going to buy new equipment for their ship which will increase their storage capacity or health bar.
godmods provides you the io games unblocked servers on each game page. Moreover, you can find these mods in the right section of each article and download them. In case you are looking for new io games to play then you can also check the io games list we have shared on our website.
How to Play?
You need to use your mouse and left click of your mouse or WASD keys on your keyboard in order to move. You will make your selections with the left click of the mouse again.
Tips and Tricks
Before you attack other opponents and creatures on the map, it may be a good idea to improve your ship. First, create an income for yourself and then buy the required installments in order to improve your spaceship.
You have to travel a certain distance in order to reach certain areas. In order to quickly travel, you can click on the minimap and choose your destination. Your spaceship will travel there automatically only within seconds.
As godmods we offer Exocraft.io unblocked servers to our visitors. If you are willing to take the advantage of different Exocraft.io hacks while playing Exocraft.io then you can download Exocraft.io mods.
.

LAST DOWNLOADS Exocraft.io MODS