,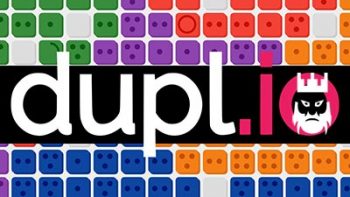 About Dupl.io
Dupl.io is a fun skill game where you need to make calculations to earn more score and invade enemy dices.
If you enjoy playing skill games then you can play Dupl.io in your free times. However, it will be worth to note that you are going to deal with the numbers in this game. You have to make good calculations about where to expand. You have one goal which is having the most lands on the map. In order to do so, you need to claim the lands of your opponents too.
We publish io games unblocked servers on our pages. You can find these mods in the right section of each article. In addition to this, we also share io games list where you can explore new io games to play whenever you want.
How to Play?
You will only need your mouse in this game. All you have to do is pick the right dices with the right click of your mouse.
Tips and Tricks
You will be playing with the dices on the map. You are going to start with one dice and try to reach 4 by clicking on it. When it reaches 4 and you click on it, it will expand to the adjacent lines. You will have four different dices to play.
The new dices will start with one. However in case, there are other dices around them, they will earn bonus score and may be as high as four. In general, you will be trying to reach the number 4 and expand your dices. In this way, you will also claim the dices of other players and increase your area on the map.
As godmods we offer Dupl.io unblocked servers on our page. You can download the Dupl.io mods for this perfect game and start playing Dupl.io with Dupl.io hacks.
.

LAST DOWNLOADS Dupl.io MODS