,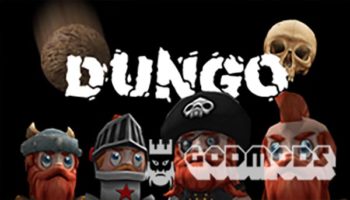 About Dungo.io
Dungo.io is a IO game with fun mechanics.
Access to all Dungo.io hacks and unblocked Dungo.io mods on godmods.com. Free to Play Dungo.io on godmods!. We advise you to visit godmods.com from time to time, because new hacks and mods or aimbots might be released for unblocked Dungo.io.
Players requests heavy rolling balls to crush opponents. Player must escape away from swearing position immediately because of falling heavy balls. Rolling balls will follow last direction of player and crush any opponent or will be smashed with hitting a wall.
Dungo.io Game Controls :
WASD or arrows for controls, SPACE for request.
Dungo.io Tactics :
Be ready after request, because falling ball can crush you.- Set your direction correctly to shoot opponent's way.- Run away if you see a rolling ball, they are very heavy.- Achieve challanges that shows up top of your screen.- Enter chaos server after being master.- You can escape a falling ball with requesting another ball, they will hit each other and explode before they fall.
Play Dungo.io with Unblocked Aimbot, Mods and Hacks features. Also You can download All Dungo.io Aimbot, scripts, hacks and all mods on godmods.com
.

LAST DOWNLOADS Dungo.io MODS