,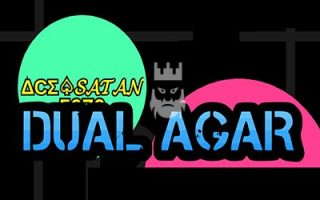 About Dual-Agar
Dual-Agar Online is a skill game where you are going to control two balls at a time and compete with other players.
Those who like to play challenging games can play Dual-Agar Online in their free times. As you can understand from its name, this game is very similar to agar.io however you are going to control two different balls. In addition to this, you can see a line to the direction you hold with your mouse. Players will try to collect the balls on the map and eat each other in order to increase their size as well as score.
We also share io games unblocked servers on our website. It is possible for you to find the list of the mods on the right section of each io game article. Moreover, we share io games list on our website too. You can benefit from this list in case you are willing to explore new io games.
How to Play?
All you have to use is your mouse. In addition to this, it is possible to split up into pieces with the help of your left click.
Tips and Tricks
You are going to control two balls at a time. And in case one of them will be eliminated you can continue with the other one. It is possible to go next to your next ball and merge with it as well. In fact, you should do it as soon as possible.
Because in case you will not do that another player will come and get it. Keep in mind that you are going to move slower as you get bigger. This is why you may want to split up all the time in order to move faster but this will increase your chance to be eliminated.
As godmods we provide Dual-Agar unblocked servers to our visitors. You can download Dual-Agar mods from our page and play the Dual-Agar game with Dual-Agar hacks.
.

LAST DOWNLOADS Dual-Agar MODS