,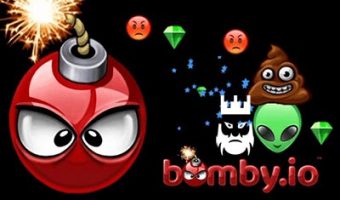 About Bomby.io
Bomby.io is a highly addictive game where you are going to play as a smiley and explode other smileys to earn score.
If you are looking for an addictive game then you can play Bomby.io in your free times. You are going to control a smiley which can leave bombs. You have to place bombs and explode other smileys in order to find crystals. Your goal is to be number on the scoreboard.
We share io games unblocked servers on our page. It is possible for you to download mods and play the io games with hacks. In case you are looking for new io games then you can check out our io games list as well. It is also possible to find the io games on our categories which start with the same letter with the category names.
How to Play?
Your smiley moves automatically and you need to provide direction with your mouse. It is possible to leave a bomb with the left click of your mouse. You can also speed up with the right click of your mouse.
Tips and Tricks
You need to leave the bombs and explode other smileys. They will crystals on the map. You need to collect these. Like most of the io games, your goal is to be number one on the scoreboard. In order to do so, you have to collect the crystals.
In case you will explode other opponents with your bombs, you will earn extra crystals. If you want to farm faster than speed up and leave bombs in the areas where are crowded in terms of the smileys. You can also see your opponents on the minimap which is located on the left top of your screen.
As godmods we offer Bomby.io unblocked servers to our visitors. Thus, you can download Bomby.io mods and play the Bomby.io game with different Bomby.io hacks.
.

LAST DOWNLOADS Bomby.io MODS