,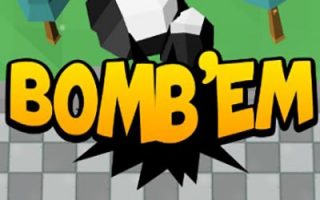 About Bombem.io
Bombem.io is a typical io game with Bomberman concept and has great graphics when compared to other io games.
Those who used to like Bomberman can play Bombem.io in their free times. This is the new version of Bomberman where you can play up to four players on the same map. You will be competing against other players and try to eliminate them in order to win the round. Players have to place bombs and destroy blocks in order to reveal power-ups and reach their opponents.
We provide io games unblocked servers on our pages. If you want to play the io games with mods then you can find these on the page of that io game right next to its article. In addition to this, we also share io games list for our visitors where it is possible for you to explore new io games to play.
How to Play?
You need to provide directions to your character with WASD keys. It is possible to place a bomb with the spacebar.
Tips and Tricks
You are going to play on a limited map where you can play against one or at most three players at a time. You have to place bombs and explode the blocks on the map in order to reach your enemies.
Each time you explode these blocks you may find different power-ups to use. You have to collect as many power-ups as you can before you reach your opponents and try to eliminate them. Keep in mind that you may be eliminated due to the fire of your own bomb. The one who will survive will win the round.
As godmods we provide Bombem.io mods to our visitors. It is possible for you to play the Bombem.io game with Bombem.io hacks by start playing on Bombem.io unblocked servers.
.

LAST DOWNLOADS Bombem.io MODS