,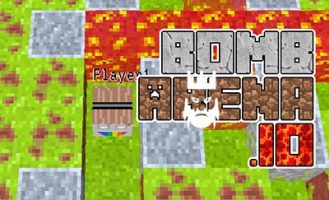 About BombArena.io
BombArena.io is a game where you are going to lay bombs to destroy your enemies and the blocks in the game.
In case you are competitive games then you can play BombArena.io in your free times. Everyone in this game will lay a bomb on a map. In case you will lose the game by being caught the fire of any bomb, you can respawn and continue playing. You can find different power-ups in the game which will help you to eliminate more enemies or lay more bombs. 
We believe that you are going to love to play this game in your free times. We share io games unblocked servers on our pages. If you want to download mods then you can find these mods in the right section of each article. In addition to this, you can check our io games list in case you are willing to explore new io games to play.
How to Play?
You need to use the arrow keys on the keyboard in order to provide direction to your character. You can also lay bombs with the spacebar.
Tips and Tricks
You need to avoid the fire of the bombs in order to survive. In case any of these fire will touch you, you will be eliminated. In addition to this, you can cage yourself by placing a bomb to between the block and your exit way. You can lay three bombs at a time but it is possible to lay more by collecting more power-ups.
It is possible to find power-ups by bombing the blocks in the game. The graphics of the game consists of pixels but as you can guess, it has a high performance. You need to kill as many opponents as you can in order to be successful in this game.
As godmods, we provide BombArena.io unblocked servers to our visitors. It is possible for you to download BombArena.io mods and start playing the BombArena.io game with BombArena.io hacks.
.

LAST DOWNLOADS BombArena.io MODS