,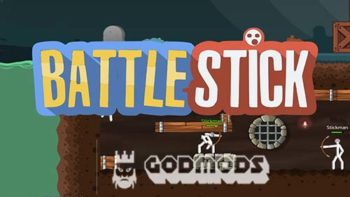 About Battlestick.net
Battlestick.net is one of the interesting io games.
Access to all Battlestick.net hacks and unblocked Battlestick.net mods on godmods.com. Free to Play Battlestick.net on godmods!. We advise you to visit godmods.com from time to time, because new hacks and mods or aimbots might be released for unblocked Battlestick.net.
Battlestick.net is a crazy and casual fast-paced physics-based 2D stickman MMO where you fight others in an arena with several weapons to choose from!
Imbue yourself with the power of those you've slain whilst misleading your enemies by feigning your own death! The strategies are yours to make, and we will continue to expand upon the game with new and exciting updates to bring you hours of entertainment!
Controls
WAD/ZQD or Up/Left/Right arrow keys: Movement. S or Down arrow key: Regenerate HP. Left Mouse Button: Use Weapon. Right Mouse Button: Drop a Satchel Charge/Explode a dropped Satchel Charge.
.

LAST DOWNLOADS Battlestick.net MODS