,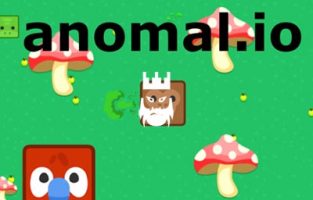 About Anomal.io
Anomal.io is a typical io game where you can eat other players and try to grow in size to win the game.
If you are looking for an addictive game then you can play Anomal.io in your free times. You are going to control a green square character and try to collect the foods on the map. As you collect them, you will grow in size slowly. It is possible to eat your opponents which are smaller than you. Unlike other io games, this game is not an endless game. If any player will reach 1000 score, the round will start from the beginning.
We provide io games unblocked servers to our visitors. We also publish io games list on our website. In the event that you are willing to explore new io games you can check this list or visit our categories in order to find games starting with that letter or number.
How to Play?
You need to provide directions to your character with the help of the WASD keys. In addition to this, you can speed up with the spacebar.
Tips and Tricks
Players have to collect the foods on the map in order to grow their sizes. Bigger players can eat smaller players, this is why try to avoid larger opponents on the map. In case you will eat meat you will grow faster when compared to other fruits on the map.
You may need to get used to the game in order to be successful. However, it is quite fun to play the Anomal.io game and you will have plenty of time to master your skills. In case any player on the map will reach to 1000 points, that round will be over and everyone will start from the beginning.
As godmods we offer Anomal.io mods to our visitors. If you want to play the game with Anomal.io hacks then you can start playing it on Anomal.io unblocked servers.
.

LAST DOWNLOADS Anomal.io MODS