,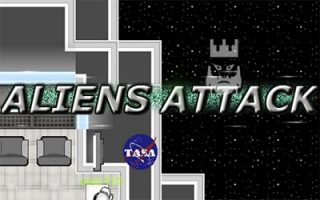 About Aliens Attack
Aliens Attack is a survival game which takes place in the space and you try to run away from the aliens.
Those who like to play survival games can play Aliens Attack in their free times. This is a fun game where you need to run away from the opposite team in order to not be converted. There are two teams of aliens and astronauts. Aliens will try to tag the other team and convert them to aliens. There is a limited time on the map. And you will earn score if you can survive or convert the most players.
We provide io games unblocked servers on our page. Players can download mods from our pages and you can also explore new io games. We share io games list where you can find all of the existing io games together with their mods and hacks. You can check out the right section of the list of the mods.
How to Play?
You are going to provide directions to your character with the WASD keys on your keyboard. It is enough for you to get the weapons by walking over them. You can also drop a weapon by pressing the G key.
Tips and Tricks
You will be trying to survive during the certain period. It is possible to see the time left on the top of the screen. Players will be playing as astronauts in this game and they avoid getting touch with the aliens on the map.
In case any of the aliens will touch you, you will convert into alien and this time, you will start to chase the astronauts. It is also possible to find different weapons on the map and try to eliminate the aliens before they touch and convert you.
As godmods we offer you Aliens Attack hacks on our page. You can download Aliens Attack mods and have an access to Aliens Attack unblocked servers to play Aliens Attack game.
.

LAST DOWNLOADS Aliens Attack MODS