,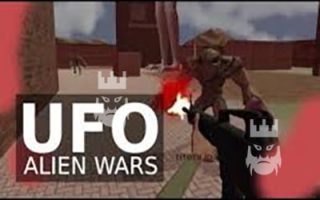 About UFO Alien Wars
UFO Alien WarsUFO Alien Wars is a 3D shooting game where you will try to survive against aliens.
In case you like to play 3D shooting games then you can play UFO Alien Wars in your free times. You are going to play on a limited area where new aliens will always spawn. You have an auto rifle in your hand which has unlimited ammo. But keep in mind that you will have to reload from time to time. You need to kill all of the zombies and try to survive as much as you can in order to reach the highest score.
We share io games unblocked servers on our pages. You can find the mods for every io game on our website. Some of the io games do not have any mods yet but when developers will develop mods for these games, we are going to include them as well. You can also explore new io games thanks to the io games list we shared with you on our website.
How to Play?
You are going to provide directions to your character with the WASD keys. It is possible to reload with the R key and you can shoot with the help of the left click of your mouse.
Tips and Tricks
It will be better for you to move all the time since there are aliens spawning all around the map. In case you will stop for a while, you may receive an attack from your back. In addition to this, there are different kinds of aliens on the map.
The smaller ones can move faster but do lower damage. And the bigger ones move slower but they deal high amounts of damage. It is all up to you about which ones you are going to kill first but you need to have a good strategy to keep surviving.
As godmods we provide UFO Alien Wars unblocked servers to our visitors. It is possible for you to download UFO Alien Wars mods and play the UFO Alien Wars game with UFO Alien Wars hacks.
.

LAST DOWNLOADS UFO Alien Wars MODS